The CPO – Community of Participation and Ownership
Mission and Goals
The CPO fully or partly owns companies within its region (within a maximum of 40 kilometres from its headquarters) which pledge to do their business in a long-term viable and regional way.
The goal is to build up and sustain companies in the region which can meet the basic needs of the local population.
Companies which are fully owned by the community are handed over to a chief executive to be run in a professional and sustainable way. The contract to run it is signed for an unlimited amount of time – the intention is to allow the same chief executive to run it as long as she wishes (this can be particularly important when the CPO "buys in" to an existing company).
The CPO determines the criteria of long-term viability on which the companies in which it has (full or partial) stakes have to report annually. These criteria can be adapted annually.
The CPO may also participate in regional housing or community projects, provided that they aim for long-term viability. These projects do not have to return a profit, they are however required to submit reports in the same way as the companies.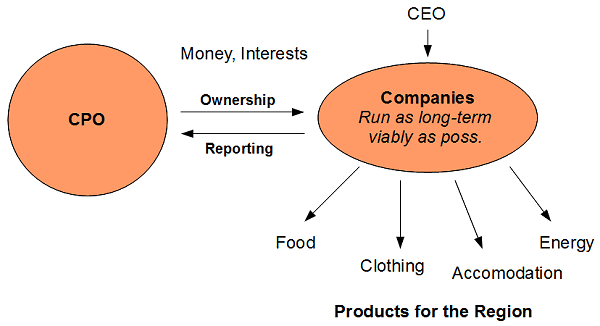 Ownership of viably-run companies