Institutions of the Market Community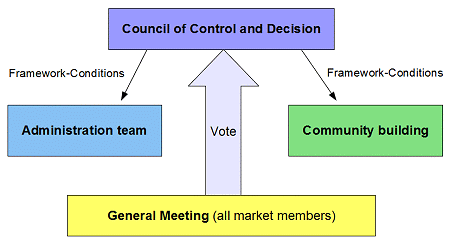 Institutions of the Market Community
The work performed by the members of these groups is remunerated in Groks.
General Meeting
The general meeting is held at least once a year, and additionally by request if necessary. It elects the members of the council of control and decision or confirms the existing ones.
It decides on the amount and usage of the fees of the market community, while taking into account the work to be covered which is necessary for the administration and organisation of the community.
Council of Control and Decision (CCD)
The Council of Control and Decision (CCD) monitors the work of the Administration and the Events and Actions groups, and takes any decisions necessary to ensure that the day to day activities of the Market Community occur in accordance with its statutes, any applicable decisions of the General Meeting, and in general accordance with the will of the members, insofar as this is known. The Council consists of 3 to 5 members and takes decisions via simple majority.
In order to be elected to the Council of Control and Decision you have to have already previously worked for the foundation of the market community or in one of its groups in an active way. The market participants should be able to assess the reliability and the sense of responsibility of the members of the council before the election takes place.
The CCD prescribes the basic principles and the general framework of the market community by which the other groups are bound. Apart from this, the groups work autonomously. Further groups may be formed as required.
Administration team
The Administration team deals with the registration formalities, maintains the contact data of the members and, if applicable, collects the registration and annual fees. It also takes care of the internet portal and the remuneration system.
Community building group
The community building group looks after the organisation of regular events for reflection and community building – in whichever form local preferences may take. Please note that we consider this an essential part of the concept, without which dissent, disillusionment and demise will most likely take their toll. John Crofts concept of Dragon Dreaming divides the full circle of a project into the quadrants Dreaming, Planning, Doing and Celebrating, so by this reckoning the community building group is responsible for one quarter of all activity!